There are three basic types of professional women's clothing:

Suit skirts, jackets, or unformed tops, as well as dresses or two-piece skirts.

Each of these three types must consider its color and fabric. The suit skirt is a standard professional dress for women and can create a strong image.

Single-breasted tops can be unbuttoned, while double-breasted coats should always be tied (including the inner button). Wearing a monochromatic skirt can make the figure look thinner. There are two kinds of skirts: matching, the tops and skirts of the same color and the same material; not matching, there are differences in the tops and skirts.

Color choices: The best colors for professional skirts are black, navy, gray-brown, gray, and dark red. Exquisite squares, prints, and stripes are also acceptable. Buy red, yellow, or lavender two-piece skirts be careful because they are too eye-catching.

Shirt: The color of the shirt can be varied, as long as it matches the suit. White, yellow, white, and beige are compatible with most suits. Silk is the best shirt fabric, but it may be more expensive to dry clean. Another option is pure cotton, but make sure the pulp is over and iron flat.

Underwear: Make sure the underwear fits well, the body lines are smooth and smooth, not only do you wear it properly, but also pay attention to the color of the underwear.

Scarf: When choosing a scarf, notice that the color should include the color of the skirt. Choose a silk scarf as a good texture, scarf of other texture knot or tie up is not so good-looking.

Socks: Women should wear long-sleeved stockings or pantyhose in their dresses. The colors are most often used in flesh and black. The flesh-colored stockings are best equipped with long skirts and cheongsams. Women's socks must be of a good size. When they are too big, they will fall downwards, or they will appear as high and low. Particular attention should be paid to the fact that women cannot organize their stockings in public and the socks cannot be exposed outside the skirt. Do not wear patterned socks because they will attract your legs. A pair of spare transparent stockings should be carried with you to prevent the sock from drawing or jumping.

Shoes: Traditional leather shoes are the best-selling professional shoes. They are comfortable and beautiful. Heel heights of three to four centimeters are recommended. Don't wear sandals on formal occasions, followed by women's shoes with straps or exposed toes. The color of the shoes should be the same as the bottom of the clothes or deeper. Starting from the hem of the clothes to the uniform color of the shoes can make most people look higher. If the shoe is another color, people's eyes will be attracted to the feet. Recommended neutral color shoes, such as black, navy, dark red, gray or beige. Do not wear red, pink, rose red and yellow shoes. Even in the summer, wearing white shoes carries social, rather than business, meaning.

Handbags and Suitcases: Handbags and suitcases are best made of leather; do not carry designer labels on the handbag. Women's suitcases can be hard or soft. The most practical colors are black, brown, and dark red. The color of the wallet should match the shoes, and the suitcase does not have to.

Women's professional clothing is more personal than men, but there are rules that all women must follow, and each woman must establish a style that best reflects her personality and taste. In particular, it is worth mentioning that on formal occasions, women must dress short, avoid jealousy, and avoid jealousy.


The Costa Rica data is a kind of customs data, it includes the information like importer name, address, HS code, HS code & products description,
price, quantity, etc. It supports to be checked in the
GTO Database
, without any limitation on HS code or company searching.
If you're thinking about entering a new market, but are not sure which, our data can prioritize target markets.
If you're looking for importers, distributors, potential end customers, or partners, our data can screen out them.
If you're monitoring your competitors, our data could continuously show you those companies' trading movements.
Costa Rica Import Data monthly summary
Report
for Chapter 29: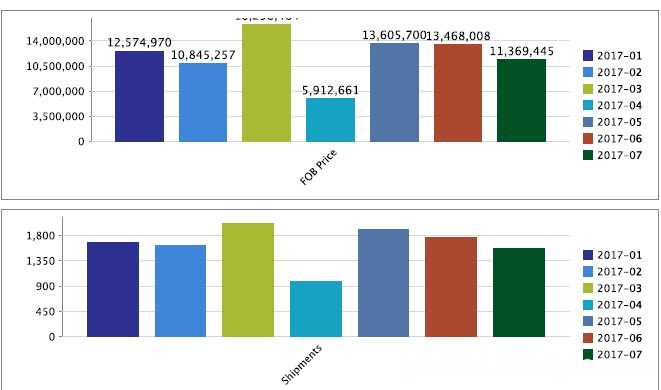 Costa Rica Trade Data,Costa Rica Economy,Costa Rica Exports,Costa Rica Imports
Global Trade Online Limited , https://www.gtodata.com